WHAT:
Dunkin' is here to help guests step into spring with a FREE coffee offer for Dunkin' of Tyler. DD Perks® members can receive one FREE Medium Hot or Iced coffee each Wednesday when they order, pay, or scan their loyalty ID QR code through the Dunkin' Mobile App.
DD Perks members can get their mid-week pick-me-up on Dunkin' every Wednesday and enjoy their free coffee with the brand's classic flavors, including French Vanilla, Caramel, and Mocha Swirls. While guests visit Dunkin' to get their free coffee, they can try one of Dunkin's new limited-time Roasted Tomato Toasts. The Roasted Tomato and Hummus Toast, or Roasted Tomato and Avocado Toast, are the perfect pairings and on-the-go choice for your coffee this spring.
To take part in Free Coffee Wednesdays, DD Perks members can simply Order Ahead and Pay via the Dunkin' Mobile App or have their loyalty ID QR code scanned before they pay. Coffee lovers who are not currently DD Perks members can enroll on the Dunkin' Mobile App or at dunkindonuts.com. DD Perks members earn five points for every dollar they spend on qualifying purchases at Dunkin'. Once a member accrues 200 points, they receive a free beverage reward of any size, redeemable at participating Dunkin' restaurants.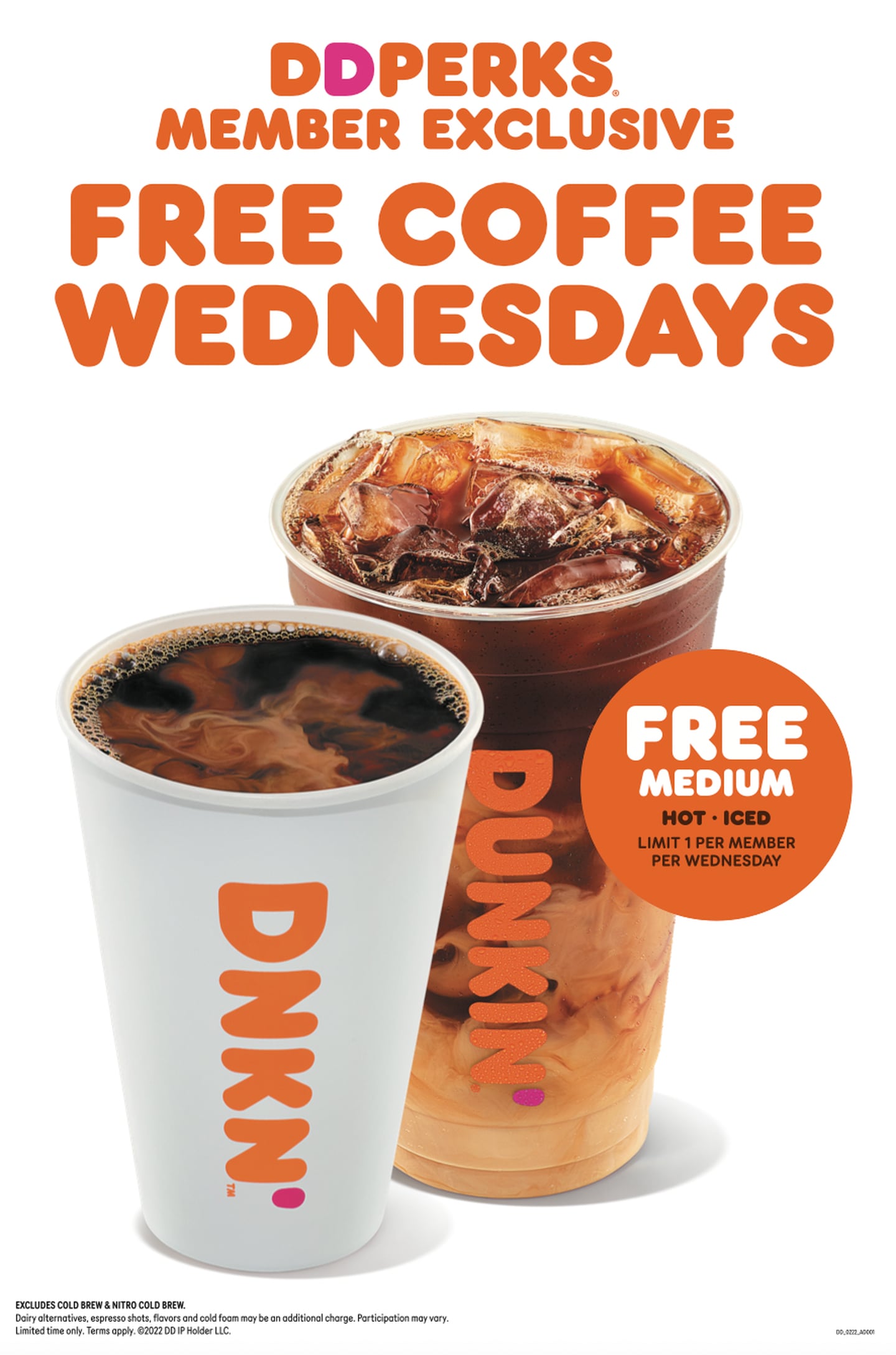 WHEN:
Free Coffee Wednesday offer available every Wednesday until May 18, 2022
WHERE:
Participating Dunkin' restaurants throughout Tyler
To learn more about Dunkin', visit www.DunkinDonuts.com or follow us on Facebook @DunkinUS, Twitter @dunkindonuts, or Instagram @Dunkin.
*Excludes Nitro Cold Brew, Cold Brew and Extra Charged Coffee. Offer valid Wednesdays 3/23/22 – 5/24/22. Limit 1 per member per Wednesday. Dairy alternatives, popping bubbles, flavors, cold foam and espresso shots may be an additional charge. Participation may vary. Limited time offer. ©2022 DD IP Holder LLC.
Copyright 2022 KLTV. All rights reserved.