After a three year hiatus due to Covid and the loss of his beloved wife Judy Gottesman to Alzheimer's, Jeff Gottesman is re-opening The Old Firehouse for a new season for 2023!
The stage will be dedicated to Judy's memory, as she was instrumental in creating the venue which celebrated 11 seasons prior to her passing.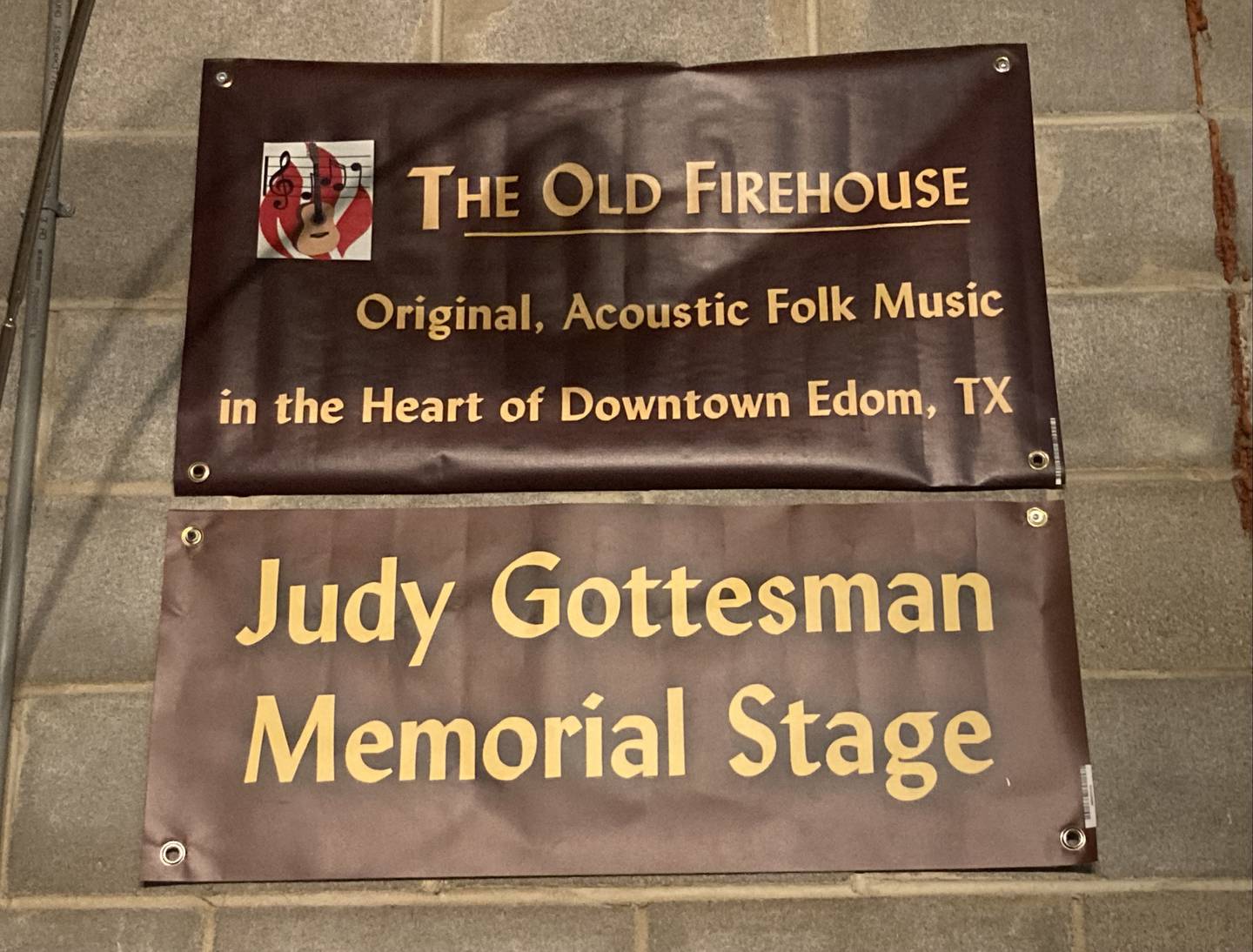 For those not familiar with The Old Firehouse, this small, intimate, smoke-free and alcohol-free "Coffeehouse" music room is a labor of love carved out of a portion of the old Edom Volunteer Firehouse which was purchased by the Gottesmans back in 2009.
"Because of the intimate setting, we've noticed that many people in our audience enjoy meeting and "schmoozing" with like minded listeners over a cup of coffee and dessert, so a few years ago we introduced a "Schmooze Hour" prior to each concert where folks can do just that before the music begins."

—  Jeff Gottesman
Who's coming soon to The Old Firehouse?
January 22 - Adler & Hearne
From Texas' upper east side, award-winning singer-songwriters Lynn Adler and Lindy Hearne (Adler & Hearne) connect with audiences coast to coast. Their music is a signature blend of original folk, jazz and blues with deep Texas roots.
February 18 - Randy Lewis Brown
Award winning singer/songwriter Randy Lewis Brown, despite being well past his prime and having an early bedtime, can still take an audience on a magical journey of discovery with his story telling and songs.
March 25 - Tony Ramey
A poet at heart, Tony Ramey began writing at the young age of ten, learned to play guitar and put his words to music when he was sixteen, and sang and wrote his way through the Master's program in English Literature at Marshall University before he took the next step and headed to Nashville. Tony is an award-winning literary scholar, a college professor, an award-winning songwriter, and is one of the most successful artists on the Texas music scene today.
April 8th - Dana Cooper
Out of the heartland of America, stomping grounds of Truman and Twain, "powerhouse" troubadour Dana Cooper dedicated himself to a life of music over 40 years ago. This song poet engages and inspires audiences around the world with his quick wit, insightful stories and commanding presence.
---
Doors open for all Saturday concerts at 5:30 PM with "Schmooze Hour," and the music begins at 6:30 PM (Sunday concerts begin at 1:30/2:30 PM.) Admission typically is $18 at the door and $15 in advance. For more information, a schedule for the entire season, or to purchase advance tickets for any concert, visit www.theoldfirehouse.net or call 903-852-ART1 (2781). More information and links to sample music can also be found on the website.
The Old Firehouse is an intimate, smoke-free and alcohol-free "Coffeehouse" music room that has made a name for itself by bringing national acoustic folk musicians to their stage performing all original music.
---
Stay Connected
Stay up to date on all things The East Texas Weekend!
Copyright 2023 KLTV. All rights reserved.