A magic pirate adventure is floating our way to help start off the new year with multiple nights of magic, lights, & fantastic memories!
The Cirque Italia Water Circus will be in Tyler from January 19th thru the 22nd at the Broadway Square Shopping Mall. You won't be able to miss the white & blue big top tent in the parking lot. Ticket can be purchased online and prices range from $10-$50.
From the press release: The story begins with our Ringmaster "Clown Rafinha" fishing when he unexpectedly catches a bottle with a treasure map stuffed inside. His ensuing journey takes the audience through storms on the high seas, dreams of angelic aerialists, pirate fights, and more. You will see swashbucklers balancing upside down on a rum barrel, juggling knives, and even one having a run-in with a mermaid. Your jaws will be dropped and you will be hanging on the edge of your seats with our suspenseful Crossbow act and our dangerous Wheel of Death performances. Try not to flinch and look away if you don't want to miss any of the excitement! Will Clown Rafinha finally defeat the other pirates who are after his treasure and claim it for himself? You'll have to see our show for yourself to find out!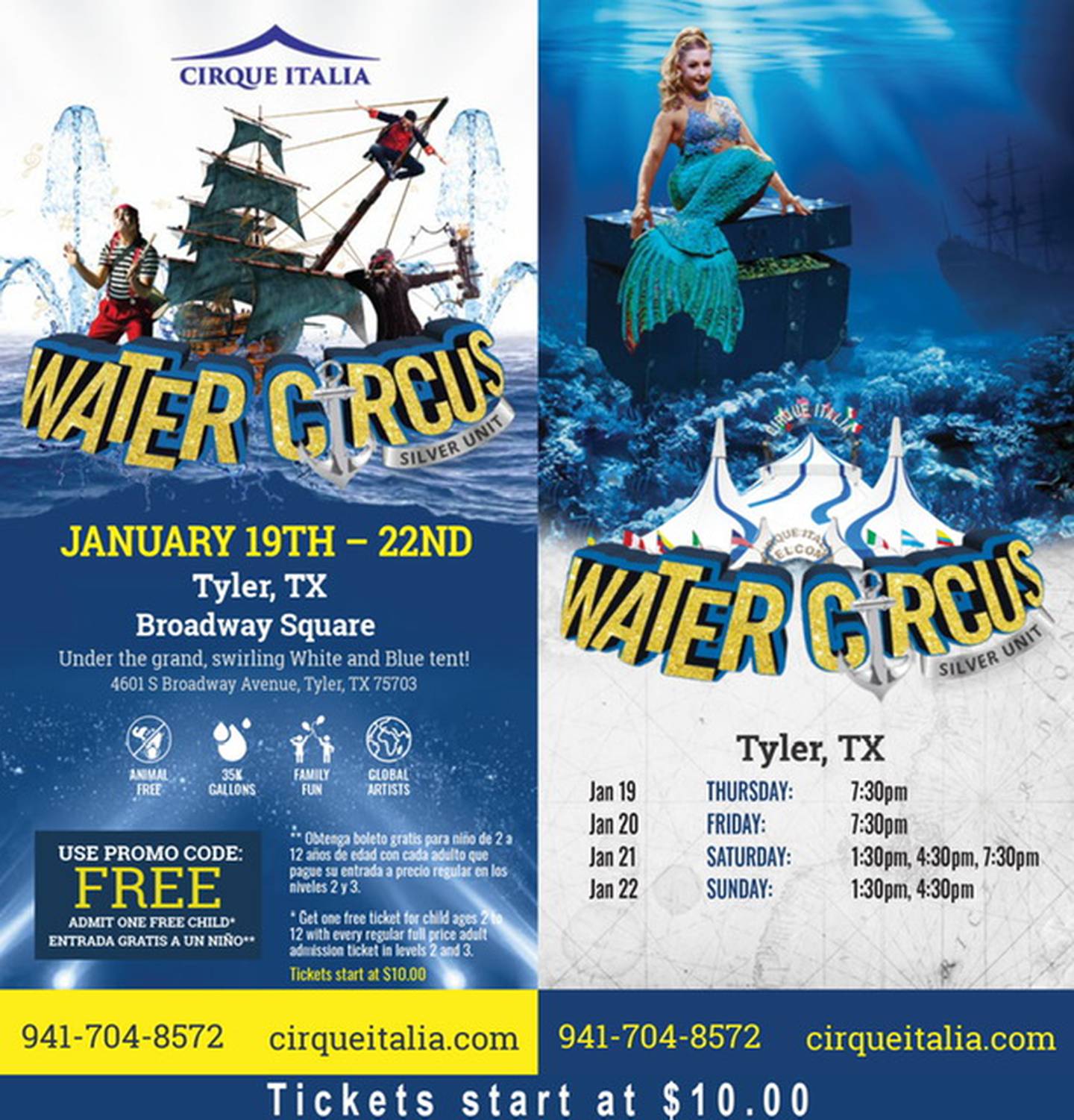 The show features a custom designed water stage that holds 35,000 gallons of water that performers will dazzle over while performing.
Learn more about the Cirque Italia on their website or by visiting their Facebook page.
---
Cirque Italia started in 2012 and is an Italian entertainment company that brings a performance of European style. It is described as a "vivid, dramatic, and moving experience under a customized traveling tent."
Inspired by the element of water, the acts express versatility and fluidity through human movement while curtains of rain and fountain jets crisscross in time to each move. Laser lights and bubbles also add to the interdimensional effect. In a nod to the inner child, mermaids rise from the depths, and even dinosaurs make an appearance.
---
Stay Connected
Stay up to date on all things The East Texas Weekend!
Copyright 2023 KLTV. All rights reserved.