Live Gilmer is hosting its 3rd annual 'Risk It for the Brisket Cook Off', taking place in downtown Gilmer on March 25. The event, sanctioned by the Outlaw Barbeque Association, will feature a free concert with headliner & Texas native William Clark Green at 8:00 pm. The event will also include a variety of activities, such as the Scorholio™ corn hole tournament, a kids' cook competition, a corn cob eating contest, a vendor fair, food trucks, and an axe throwing competition.
As a sanctioned Outlaw BBQ cook off, Risk It for the Brisket is a competition for both amateur and professional Texas barbecuers. With 100% cash payout for BBQ prizes, a Chef's choice/Jack pot competition (happening on Friday, March 24th), and a competitive kids' cook, there are plenty of ways to earn prizes. Vendors and BBQ teams can still sign up on Live Gilmer's website.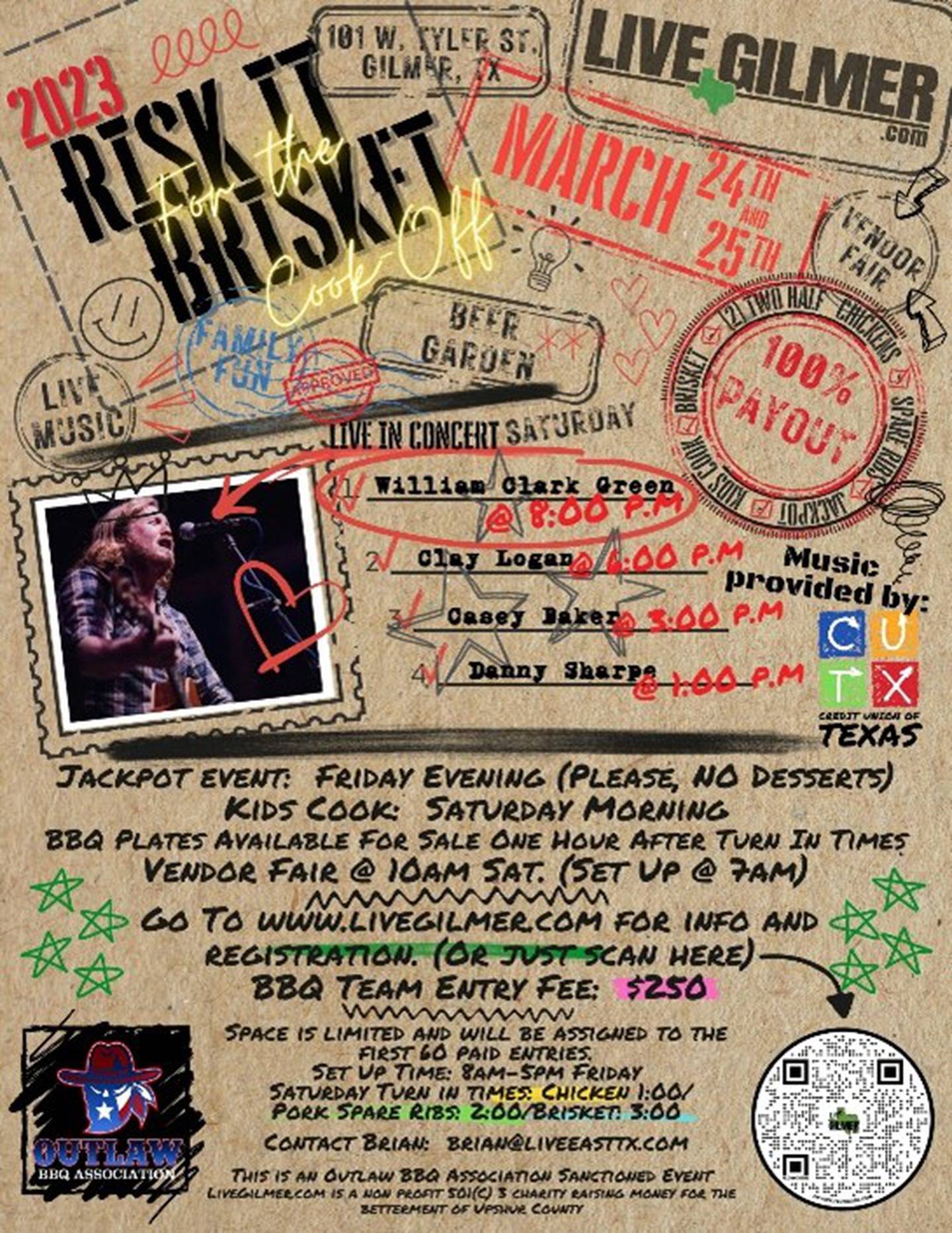 The event is free to attend, though competitors' barbeque plates can also be purchased for $5 while supplies last. Registration for the different events can be found here. Live Gilmer, founded in 2020, aims to support local small businesses and community development through events and downtown improvement projects.
"Risk It for the Brisket is one of our favorite events that is hosted in downtown Gilmer on the square," said Andrea Moore, Urban Local Clothing owner. "We have loved getting to meet and spend time with all of our customers and community ever since. We cherish this event every single year!"
Live performances will include:
Don't miss out on the fun-filled day of food, music, and activities at Risk It for the Brisket Cook Off in downtown Gilmer on March 25. Follow Live Gilmer on Facebook and Instagram for updates on this and other events.
---
Stay Connected
Stay up to date on all things The East Texas Weekend!
Copyright 2023 KLTV. All rights reserved.