The Garden Capital of Texas is ready to unveil its beauty once again through the Tour of Home Gardens. This year's event will take place on May 20, from 9:00 PM to 3:00 PM, and May 21 from 1:00 PM to 4:00 PM.
This annual event is organized by the Garden Capital of Texas Committee to highlight the work of some of Nacogdoches' most dedicated gardeners. It features three private residences, as well as The Cottage Wine Bar, and the largest azalea garden in Texas, Stephen F. Austin State University's Ruby Mize M. Azalea Garden.
Tickets are $25 and can be purchased at participating gardens on the day of the event, or in advance from Garden Club members and at the Charles Bright Visitor Center, 200 E. Main St.; The Fredonia Hotel, 200 N. Fredonia St.; Pemberley's at The Jones House, 141 N. Church St.; The Plant Shed, 3123 Appleby Sand Rd.; Charles Pool Real Estate, 3505 North St.; The East Texas Garden Center, 2887 Hwy 21 W.; and Laine's Hallmark, 3205 N. University Dr. Tickets can be purchased with cash or check, and this is a rain-or-shine event.
The money raised by the tour helps fund the Garden Capital committee's planting efforts. The Garden Capital Committee has worked with its partners, including the City of Nacogdoches, Nacogdoches Parks and Recreation, the Parks Advocacy League, Keep Nac Beautiful, SFA Gardens and local garden clubs, to plant more than 2,000 trees in recent years. In the fall of 2022, The Garden Capital of Texas Committee donated $5,000 to the SFA Gardens to help continue the children's education program with Dr. Alan Sowards for the education coordinator position.
For more information about the Garden Capital Tour of Home Gardens, contact the Garden Capital of Texas Committee at Keep Nacogdoches Beautiful, 936-560-5624 or by email at info@keepnacbeautiful.org.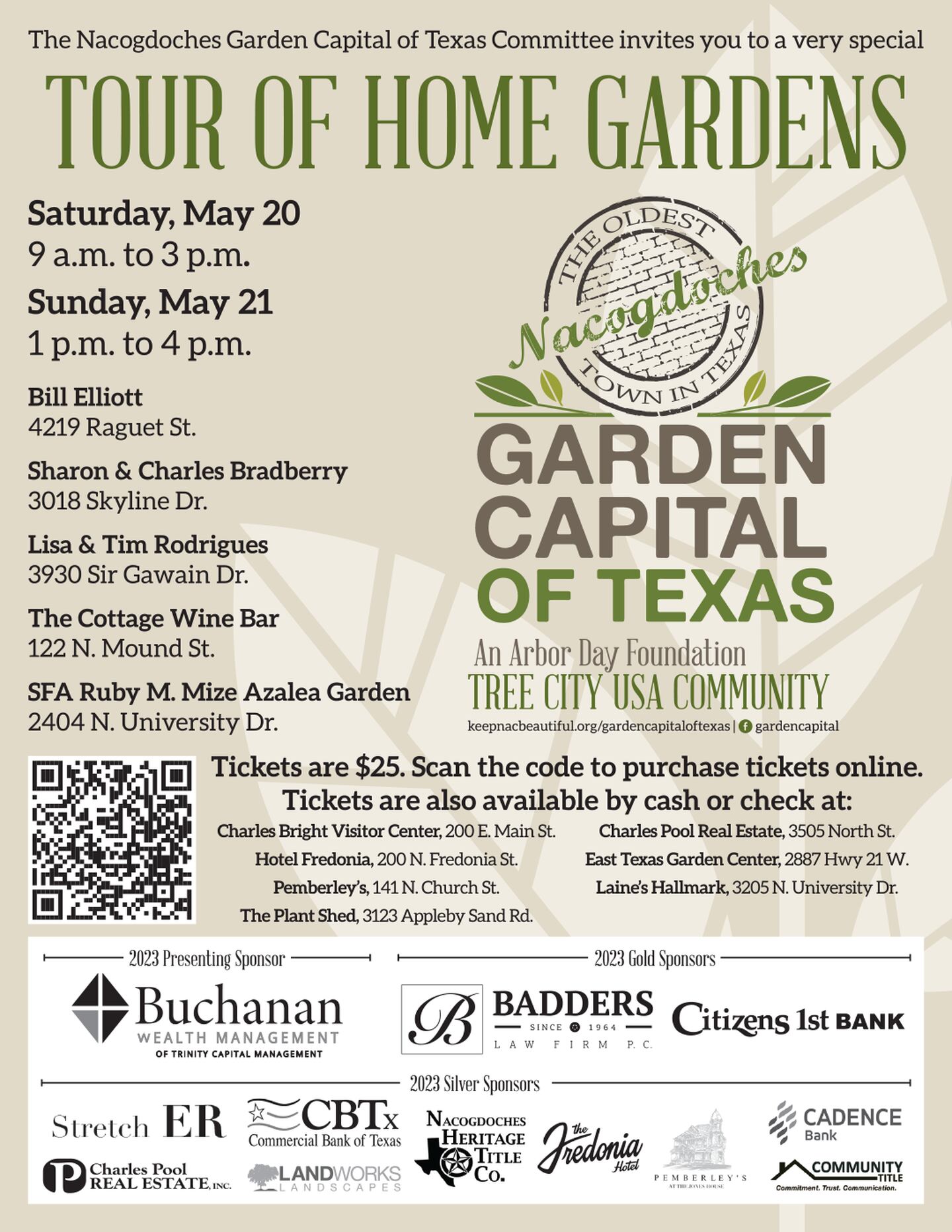 ---
The Nacogdoches Beautification Project makes available financial assistance to individuals or organizations whose community beautification projects meet the mission of the Garden Capital of Texas Committee.
Wendy Buchanan Wealth Management is Presenting Sponsor of the Home Garden Tours. Gold Sponsors are Citizens 1st Bank and Badders Law Firm. Silver Sponsors are Commercial Bank of Texas, Charles Pool Real Estate, Stretch ER, Pemberly's at the Jones House, The Fredonia Hotel, Landworks Landscapes, Nacogdoches Heritage Title, Cadence Bank and Community Title.
The mission of the Nacogdoches Garden Capital of Texas Committee is to educate, engage and inspire Nacogdoches area citizens to become involved in beautifying their community green spaces. The Nacogdoches Garden Capital Committee is a part of Keep Nacogdoches Beautiful.
---
Stay Connected
Stay up to date on all things The East Texas Weekend!
Copyright 2023 KLTV. All rights reserved.