Welcome to the Piney Woods Wine Trail, a self-guided journey through many charming wineries in East Texas! From the beauty of East Texas to the richness of the wines, every stop shows off what makes this trail a unique experience you must experience.
The Piney Woods Wine Trail has over 20 family-owned wineries, stretching out to every corner of East Texas. So, no matter where you're visiting, there's local wine worth trying nearby.
"Between all of the different wineries, we are not so much competitive as we are encouraging each other so we can get together and host things together. It's a very nice situation," said Joe Moody, owner of Moody Family Wines. "If you're just curious, come out and taste a bunch of different wines from different wineries."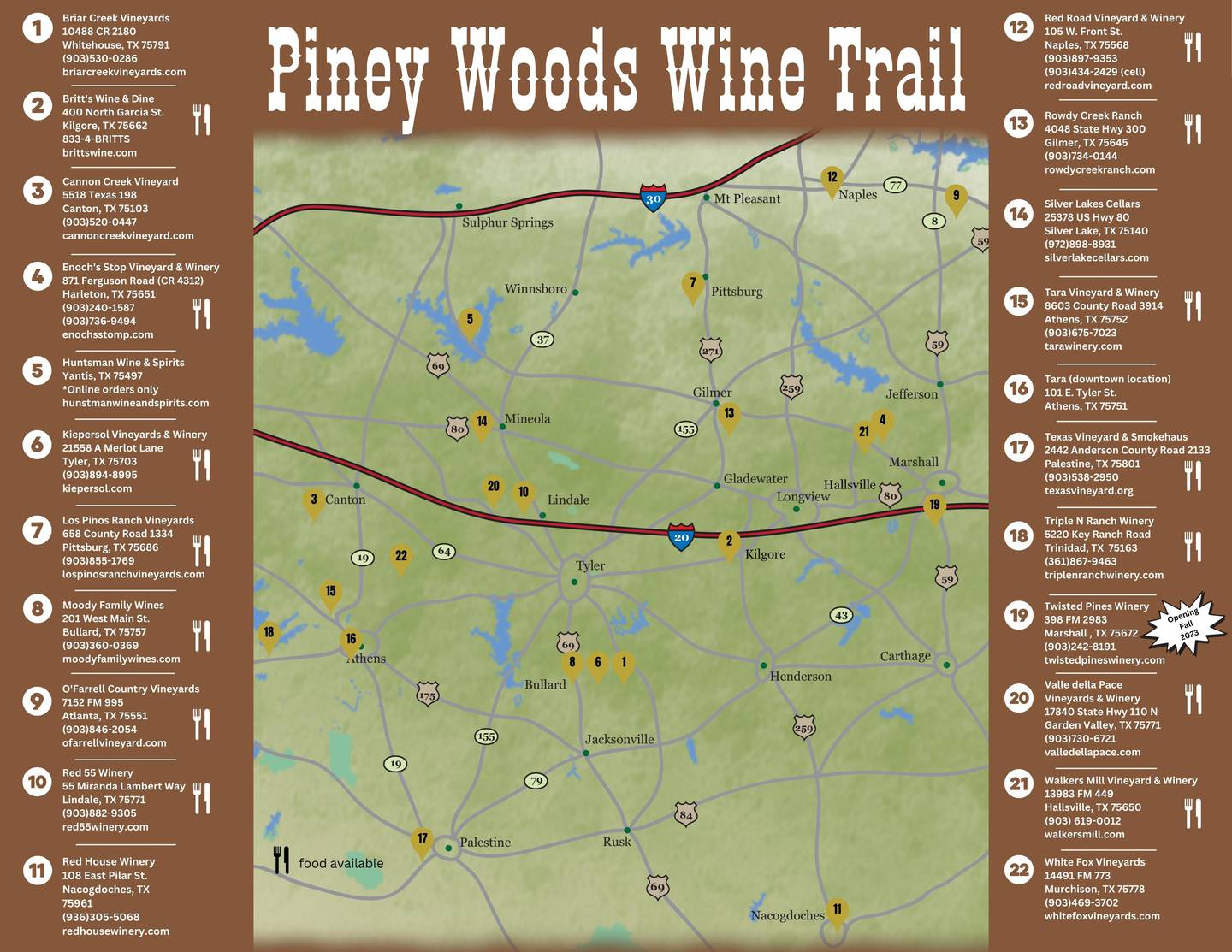 Because of the size of East Texas, it's okay to take it slow and take the wineries in small groups at a time. That way, it's even easier to savor each destination at your own pace, soak in the beauty of each one, and be able to appreciate how diverse the region is. Each winery provides a welcoming environment for both seasoned wine lovers and casual enthusiasts.
"We offer places where people can come and learn about wines," said Britt Davis, owner of Britt's Wine & Dine. "One of the things I hear people saying all the time is, 'I'm so glad this is here so I can explore.'"
A highlight of the trail, which brings together many of the wineries to one place, is the Piney Woods Wine Festival. This happens in the spring and fall, giving you two chances to meet with many of the winemakers and try a sip from all over East Texas at one time, maybe you'll even find a new favorite!
Whether you're a lover of wine, or love exploring new areas, it's hard to be disappointed on the Piney Woods Wine Trail. Raise a glass, and toast to the new flavors and experience you'll get to enjoy when you start your journey down the trail.
To learn more about the Piney Woods Wine Trail, you can visit their website here, and check out their Facebook page for updates.
---
Stay Connected
Stay up to date on all things The East Texas Weekend!
Copyright 2023 KLTV. All rights reserved.