Robson Palermo Invitational at the Cross Brand Cowboy Church — If you're searching for an unforgettable evening filled with the "toughest sport on dirt", then Cross Brand Cowboy Church is the perfect place for you. Located at 11915 FM 2015 in Tyler, Texas, this distinctive church has been a symbol of faith and community since its establishment in 2003.
Robson Palermo Invitational PBR Touring Pro Division
Cross Brand Cowboy Church made history last year when they welcomed the Professional Bull Riders (PBR) to their arena in Tyler, Texas, for the first time. And guess what? They're doing it again! The Robson Palermo Invitational PBR Touring Pro Division event will wow East Texans on October 28, 2023, at 7 PM, right at the Cross Brand Arena. Don't miss out on this thrilling event!
Brack Bivens, the Arena Director, commented, "We will have some of the most famous bulls from some of the most famous contractors here." This thrilling event is going to feature 40 of the world's most fearless bull riders taking on some of the toughest bulls in the business. Last year, the stands were packed with over 2,000 spectators, and this year is gearing up to be yet another sellout event!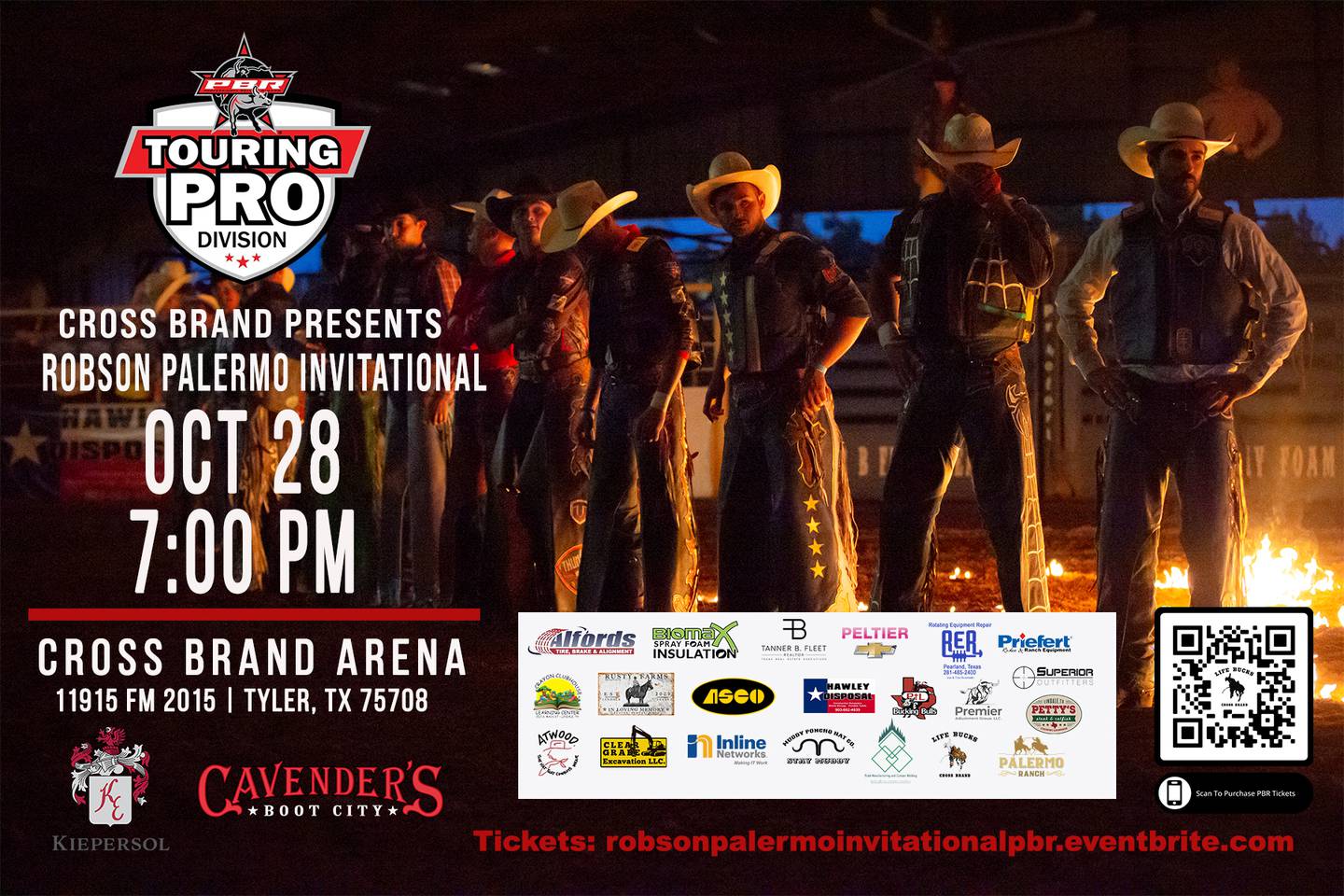 Event Details:
Date: October 28, 2023
Gates Open: 5:30 PM
Event Starts: 7:00 PM
Tickets: $30 (General Admission)
Ticket Link: Purchase Tickets
Are you ready to put on your cowboy boots and grab your hat? An exciting night of bull riding is coming to East Texas! Whether you're a rodeo expert or simply looking for a fun and thrilling way to spend your evening, the Robson Palermo Invitational PBR Touring Pro Division is an event you definitely want to attend.
Have you ever been to Cross Brand Cowboy Church? If not, now is the perfect time to come and experience their one-of-a-kind mix of faith, community, and entertainment. Make sure to mark your calendar for October 28 and join us in celebrating the spirit of rodeo!
Their Mission
Cross Brand Cowboy Church is not a typical place of worship. Its mission is unique: "to reach those who have not been reached and teach those who have." With this profound purpose in mind, the church strives to establish a welcoming and non-judgmental community where everyone can come together to follow Jesus. They firmly believe in their role as the visible embodiment of Christ and treating others with compassion.
"We started as a mission field and outreach, and we always felt that you may not reach people by inviting them to church, but you can always invite them to a rodeo or an event in the arena," said Arena Director Bivens.
The approach of the church is community first. They provide easy and convenient opportunities for people to connect with their faith. The services are held on Sundays at 9 AM and 11 AM and Wednesdays at 6 PM. They offer a friendly environment that is welcoming to everyone, whether they are newcomers or seasoned churchgoers.
For more information about Cross Brand Cowboy Church, including information about their services, visit their website at cbcctx.org or check them out on Facebook. Come to the rodeo and join in for an evening of fun and fellowship.
---
Stay Connected
Stay up to date on all things The East Texas Weekend!
Copyright 2023 KLTV. All rights reserved.