Piney Park is gearing up for a month of Easter fun and festivities! They will be open on Saturdays and Good Friday for the month of April. Plus, Piney Park will be hosting not just one but TWO Easter egg hunts!
Mark your calendars for April 1st & 8th, the first two Saturdays of April. There will be 10,000 eggs at each hunt and be on the lookout for special hidden golden eggs with grand prizes. The egg hunts will begin at 10:15am both days, and will cost $10 per person ($9 if your ticket is bought online).
The whole park itself will be open every Saturday in April, plus Good Friday, 10:00 AM - 7:00 PM. Other than the egg hunts, the Easter Bunny will also be making a visit on April 1st, 7th, & 8th, along with the plethora of activities for the family to enjoy such as jumping around in the jumbo jumpers, slide down the slides, ride the barrel trains, and test your skills in the game area. For a real thrill, try your hand at cannon shooting!
Food trucks will be located in the park for a treat, and don't forget to take advantage of the photo ops scattered throughout the park!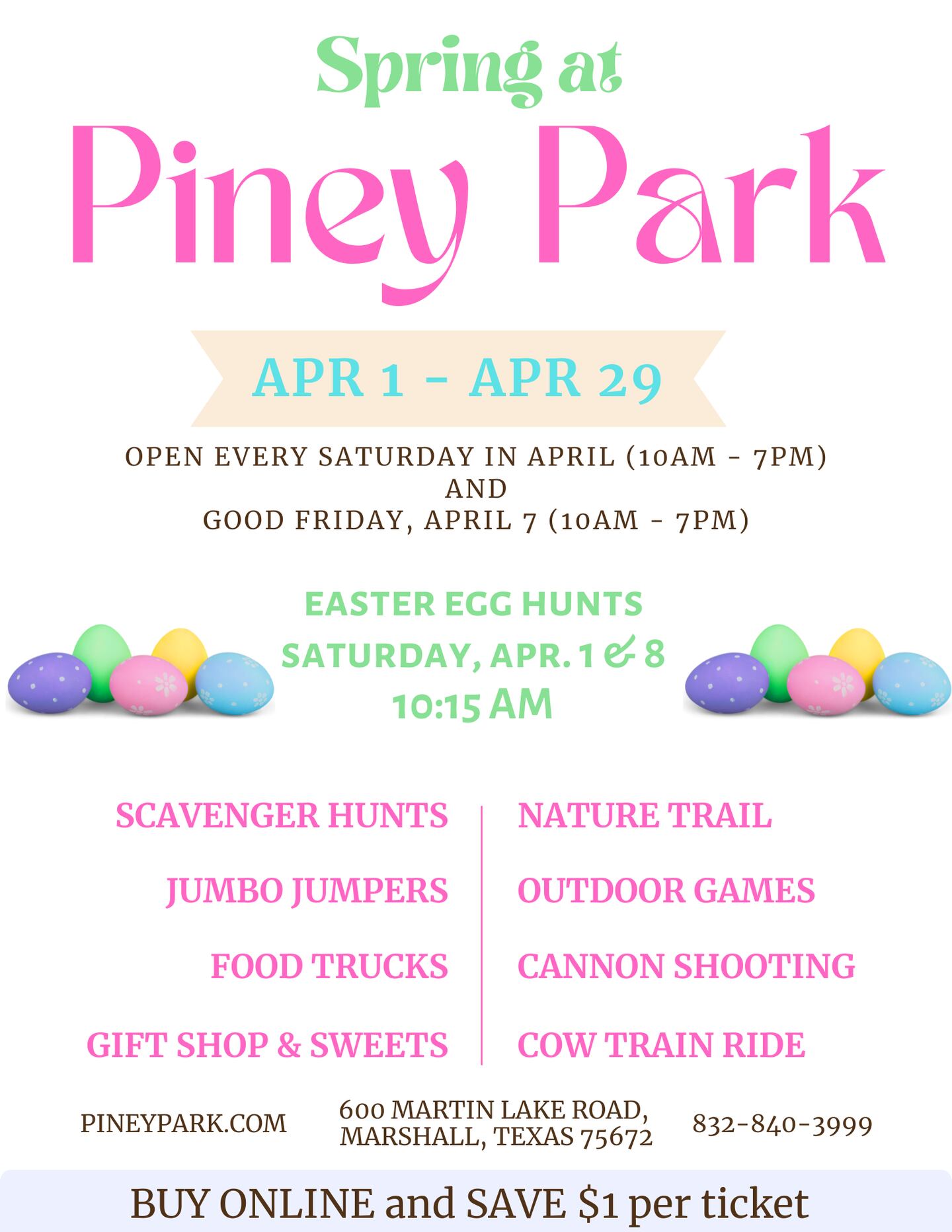 Spring field trips are also available on select days in April for groups such as schools, daycares, homeschool groups, special needs groups, and playgroups for parents with children not yet in school. These run April 4th-6th & 12th-14th, from 9:00 AM - 1:30 PM, for $8 per person. Reservations can be made by contacting Piney Park at info@pineypark.com.
To learn more and stay up-to-date with these events at Piney Park, make sure to check out their Facebook page. Tickets will be on sale soon!
[Check out our previous coverage of the Trail of Lights event at Piney Park!]
---
Stay Connected
Stay up to date on all things The East Texas Weekend!
Copyright 2023 KLTV. All rights reserved.